Our history
We offer our expertise in video image processing to stakeholders working on the major challenges of the planet: Health, Water and Food
ViewPoint Behavior Technology is a french company involved worldwide, for over 30 years, in health and environmental research, offering its customer the state of the art animal behavior analysis solutions. In 1990, our company was the first to automate locomotor tracking of rodents for researchers in Neuroscience, and has since stayed the innovative leader providing various apparatus and capabilities. In 1997, ViewPoint expanded the capabilities of our systems to primate behavioral analysis. In 2001, as a pioneer in behavioral videotracking tools, our innovative status elicited a request for zebrafish larval analysis, and the first worldwide videotracking software for zebrafish came to life: ZebraLab
Shortly after, ViewPoint expanded with an office in North America, where the first ever high-throughput monitoring enclosure to analyze zebrafish behaviors collaboration occurred at Harvard University: our first ZebraBox was born. In 2006, ViewPoint celebrated the opening of an office in Shanghai, making us more accessible to our clients in Asia and offering worldwide coverage. Viewpoint has continued to broaden its fields of application to ecotoxicology, food research and environmental issues. In 2015, Viewpoint wished to complete its mission by developping a tool dedicated to researchers actively working on the issue of feeding the planet: PhenoMix is the fastest automated plant phenotyping system to help researchers in their race against hunger.
2020 : The last achievement of Viewpoint is ToxMate, an onsite biomotoring station of effluents by videotracking of macro-invertebrates. Viewpoint wished to broaden its field of competence to protect the environment and started a close collaboration in 2014 with the ecotoxicological laboratory of Inrae-Lyon (formerly Irstea) to develop ToxMate.

The scope of the ToxMate is vast and deployments have been successfully carried out on sites such as urban wastewater treatment plants, or in the evaluation of tertiary treatment plants.

Our products are applicable to virtually any behavioral experiment. Allowing researchers to use our products in any field, to study an unlimited number of topics, in the fields of neuroscience, ecotoxicology, drug discovery, toxicology etc …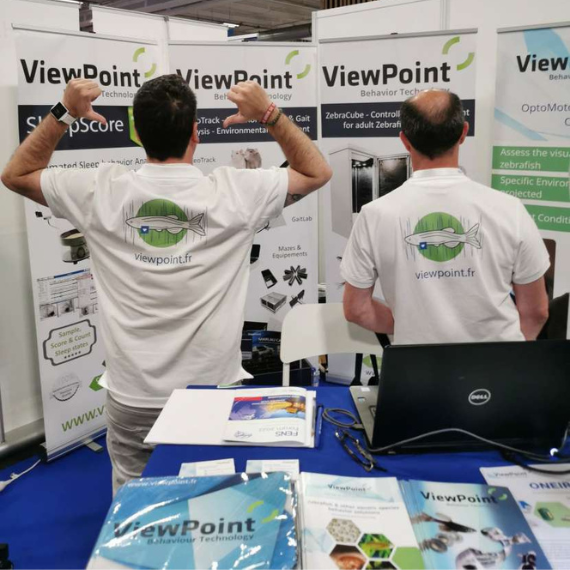 Our team of engineers brings a vast amount of technical knowledge, and works closely with our user community to offer advanced solutions.

Innovation is the core of our company. ViewPoint is recognized as a leader in the industry and academia, and is the go-to resource for the best scientists looking for reliable video tracking solutions.

ViewPoint offers complete solutions for behavioral scientists. We are the chosen supplier by many top researchers, for our innovation and product offering. ViewPoint is a true partner in behavioral research, whether rodents, fish, primates, micro- invertebrates ...

Our solutions give access to high throughput screening, reliable data, better time and cost efficiency and ground-breaking studies. Large-scale screening studies were previously prohibitively expensive and time-consuming, now with Viewpoint's tools, research is driven forward at an unprecedented rate.